ASKAMY
A native application to interact with your customers
and social sell

directly from your customer care center.
AskAmy is a highly versatile messaging platform. Enabling real-time conversations. With all conversation history in one screen. Connect to any channel of your choice. Built natively on Salesforce with seamless integration.
INSTALL, MANAGE & INTERACT
AskAmy is directly installed and available in your existing Salesforce org. The Messaging App is seamlessly integrated with your Service Cloud. Therefore, it is possible to have your customer care center interact with customers via the most favorite (social) channels, like WhatsApp and Facebook Messenger, through just one interface in Salesforce.
ALL FUNCTIONALITIES TO INTERACT THROUGH
AskAmy offers key functionalities required for any modern high-volume interaction department, whether it's for consumer-facing sales and service, or for communications between internal departments. Through only one interface, you are able to provide the best possible service to your customers and colleagues.
ALL DATA & FUNCTIONALITIES FOR
In AskAmy you are able to provide the best possible proactive service, as you have the 360° view available of your customers. With all purchase and interaction history available, the service agents can personalize their approach and proactively support and advice the customer in its query. For example, by providing store and stock locator information on specific brands and products to the customer via the chat. 
A CUSTOMER SERVICE APP THAT GENERATES
AskAmy also enables your customer service in directly selling products to the customer. Through connecting with the online store, products can be selected for social sales, offered via AskAmy and the relevant channel and immediately being ordered. Payment can also be done through the app to complete the order. And best of all? All customer data is directly available and updated!
ACHIEVE HIGH CSAT SCORES THROUGH
Through the integration of Einstein Next Best Action, your service agents are able to receive recommendations to improve customer satisfaction. The creation and displaying of offers and actions that are tailored to your business and customer needs, makes proactive customer service happen to achieve optimal customer engagement.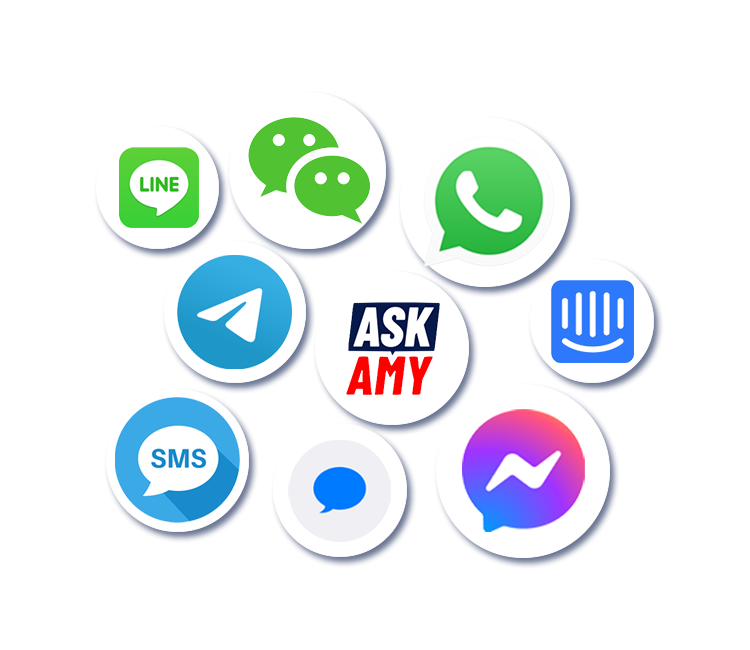 INTERACT THROUGH ALL OF YOUR FAVORITE
As a complete platform, AskAmy integrates with the most important (social) communication channels, like WhatsApp, Facebook Messenger, Apple Business Chat, Telegram, WeChat, Intercom.io and SMS. Select the channel that is most relevant for your customers and start interact as social company. Make your customers' life easier and interacting more fun with the extensive application of AskAmy.